Continuum and Polarisation Science from SKA Precursors
Monday July 17 -­ Friday July 21 2017
August 11 – most Presentation PDFs now available.
July 19 – Conference photo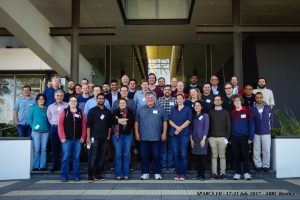 July 7 – Programme updated
June 22 – Registered participants list released.
The annual SPARCS meeting will be held in Perth, Australia, in 2017 to gather together researchers from the SKA precursors in radio continuum and polarisation science.
This will be the seventh such meeting and SPARCS was setup to share knowledge, techniques and experience on continuum science from the SKA precursors.
This year the meeting will include synergy with polarised surveys, a day of breakouts for planning SKA Key Science Projects and the ASKAP/EMU collaboration meeting.
Scientific Organising Committee
Nick Seymour (ICRAR/Curtin chair)
Claire Chandler (NRAO)
Yashwant Gupta (NCRA)
George Heald (CASS)
Minh Huynh (CASS, ICRAR/UWA)
Raffaella Morganti (ASTRON)
Tom Muxlow (Manchester)
Ray Norris (CASS, WSU)
Russ Taylor (UWC)
Randall Wayth (ICRAR/Curtin)
Invited Speakers include
Bjorn Adebahr (ASTRON) on APERTIF
Rob Beswick  (Manchester) on eMERLIN
Bradley Frank (UCT/IDIA) on MeerKAT
Natasha Hurley-Walker (ICRAR/Curtin) on MWA
Amy Kimball (NRAO) on JVLA
Josh Marvil (CSIRO) on ASKAP/EMU
Cormac Purcell (Macquarie) ASKAP/POSSUM
Dharam Vir Lal (NCRA) on uGMRT
Jess Broderick (Astron) on LOFAR
VENUE: ARRC Building in Perth, WA
26 Dick Perry Ave, Kensington (see map below)