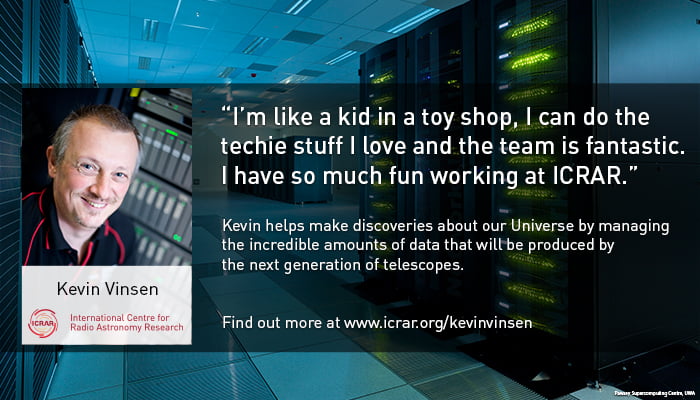 After almost 10 years as the chief software engineer for one of Australia's leading defence contractor Thales, Kevin Vinsen knew it was time for a change.
But it was a part-time role helping out in the early days of icrar that rekindled his passion for computing and prompted him to give up his job managing more than 360 engineers to work in astronomy.
"I had so much fun I decided to take a pay cut to come to icrar," he says. "I wish I'd done it years ago—I'm back doing the type of things I love."
Now, Kevin is helping to make discoveries about our Universe by managing the incredible amounts of data that will be produced by next generation radio telescopes.
He works with a consortium of 21 organisations worldwide, led by Cambridge University, on the Science Data Processor for the multi-billion dollar Square Kilometre Array (ska).
" The data rates involved are expected to exceed global internet traffic."
Kevin produced the software engineering and configuration management plans for the Science Data Processor consortium in a process known as the Preliminary Design Review.
He provides data support for two huge galaxy surveys called Gama and chiles and is the project scientist for theSkyNet, a citizen science initiative that links thousands of computers around the world to simulate a powerful supercomputer.
"I'm a kid in a toy shop," Kevin says. "I can do the techie stuff that I love and the team is fantastic… we just get on and do awesome stuff."
IVEC and the Pawsey Centre from ICRAR on Vimeo.