The 2023 ICRAR UWA committee
Chair
Elisabete da Cunha (she/her)
(UWA DEI Contact Officer)
Deputy Chair
Asha Stabback (she/her)
DEI Ambassador
Tessa Vernstrom (she/her)
Senior Academic
Giulia Santucci (she/her)
Postdoc
Luca Cortese (he/him)
Exec Representative
Matthew Frosst (he/him)
PhD student
Aaron Ludlow (he/him)
Wards Officer
Tamsyn O'Beirne (she/her)
Masters student
Tim Young (he/him)
Communications, Education
& Outreach Representative
Objective
ICRAR attracts and recruits staff, students and visitors nationally and internationally from diverse backgrounds of culture, race, gender and age for their excellence in research and development. ICRAR-UWA The Development, Equity and Inclusion (DEI) committee was established in October 2014 as part of an ICRAR-wide initiative to foster matters related to equity, inclusion and development. DEI's objective is to strengthen the quality of ICRAR-UWA as a workplace, by taking measures to promote equity and inclusion across genders and cultures, as well as to help the professional development of students and early-career researchers (ECRs). The committee runs various activities and makes recommendations to ICRAR's Executive team.
Areas of Responsibility
Review current practices at ICRAR-UWA regarding:
a. Equality and inclusivity principles
b. Career support for women astronomers and minority groups
c. Family friendliness
d. Professional development of early career researchers (ECRs)


e. Career preparation of higher degree students (Master and PhD)

Identify areas of improvement that follow from the review.
Develop initiatives and KPIs addressing the areas of improvement.
Monitor progress of KPIs and initiatives.
Promote ICRAR's strive for an inclusive and equal work environment inside and outside the institute.
Report to the ICRAR Executive Director.
A list of initiatives co-organised by DEI is available at this link.
Please also see UWA's code of conduct and equity and diversity web pages.
Words to describe ICRAR-UWA (as per the 2022 climate survey):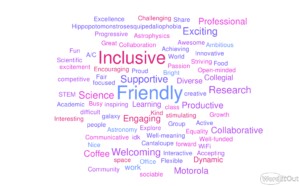 Recognition
Elisabete da Cunha
Chair of DEI Committee
31 July 2023