Astronomical Society of Australia Education and Public Outreach Chapter Biennial Workshop
December 5-6, 2018
ICRAR-UWA
The Astronomical Society of Australia's Education and Public Outreach Chapter (ASA EPOC) is tasked with being the focal point of interaction between Australian professional astronomers and the broader astronomy education and outreach community. Part of this mission is to organise a regular national astronomy EPO workshop. This meeting is the second ASA EPO Chapter workshop, the first having been held in 2016 at the University of Melbourne.
The goal of this 2 day workshop is to i) to facilitate the development of connections between professional astronomy and education and public outreach nationally, to ii) provide support, encouragement and professional development for astronomers at all career levels seeking to incorporate EPO activities into their professional career and iii) highlight the successes and lessons learned over the last two years while setting goals as a community for the future.
Key Dates
December 5-6th 2018: Workshop
December 5th 2018: Workshop Sundowner
December 7th 2018: Optional Gravity Discovery Centre trip
Location
The workshop will be held in the ground floor seminar room at ICRAR's University of Western Australia node.
Address: 7 Fairway, Crawley. Ground floor of the Ken and Julie Michael Building.
Follow the signs to the seminar room on arrival.
workshop sundowner
The workshop evening event will be sundowner pre-dinner drinks held next to the SPIRIT telescopes on top of the School of Physics building at UWA. Please indicate your attendance at this event during registration.
Day one wrap up
Photos and Welcome to Country video
Queries
For more details or registration queries, please contact Michael Fitzgerald (ASA EPOC Chair) and Kirsten Gottschalk (ICRAR Local Organising Chair).
Sponsors
Many Thanks to our Sponsors
Galactic Sponsors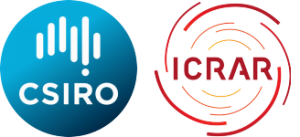 Stellar Sponsors

Organising Committee
Michael Fitzgerald, ECU (ASA EPOC Chair)
Kirsten Gottschalk, ICRAR (LOC Chair)
Rob Hollow, CSIRO
Saeed Salimpour, Deakin University
Tracey O'Keefe, ICRAR
Lisa Randell, ICRAR