A Harley Wood Lecture
Dr Tanya Hill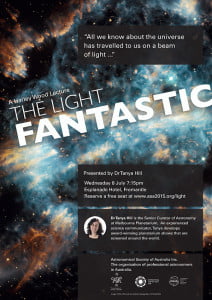 It's impossible to visit a star, and even if we could, we wouldn't be able to pull one apart to see how it works. All astronomers can do is wait – wait for the light from a star or galaxy to traverse the vastness of space. But within that light there is a story to tell and information to be found. Using stunning images, Dr Tanya Hill will explore the remarkable science that astronomers have carried out and the many things that have been uncovered about the Universe just by looking at light.
Location: Esplanade Hotel Fremantle, 46-54 Marine Terrace, Fremantle, WA
Date: Wednesday, July 8th.
Time: 7:00pm for a 7:30pm start.
About the Speaker
Tanya is the Senior Curator of Astronomy for the Melbourne Planetarium. Other museum curators might have drawers, cupboards or even rooms overflowing with their collection items, but Tanya's collection is the magnificent night sky. Since 1999,Tanya and her creative team have been producing planetarium shows, many of which are now screened in planetariums around the world. Tanya is the Australian representative of the European Southern Observatory's Science Outreach Network and also writes an astronomy column for The Conversation, an online public news source written by academics.