Last month, all of us at ICRAR farewelled Professor Peter Quinn and wished him all the best for his new role within UWA's research team.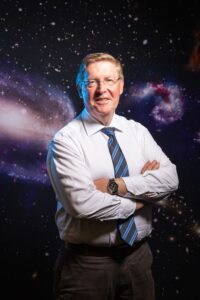 A bright star of the astronomy world, Professor Quinn helped build ICRAR from the ground up – from a new joint venture in 2009, to being recognised as one of the top five radio astronomy institutes of its type in the world.
As the Founding Executive Director of ICRAR – a WA Government funded joint venture between Curtin University and UWA – Professor Quinn led the discussions that resulted in ICRAR's establishment, and promoted WA as one of two sites selected for Square Kilometre Array (SKA) telescopes. SKA has delivered numerous research benefits to WA researchers, as well as enabling education and outreach for the community, and helping local industry benefit from SKA projects and spin-off technology.
ICRAR Chief Operating Officer Dr Renu Sharma said Professor Quinn's leadership had been critical to ICRAR's success.
"Team ICRAR is very grateful to Peter for his inclusive and visionary leadership and wishes him all the best for his new endeavours," Dr Sharma said.
Professor Lister Staveley-Smith, interim Executive Director of ICRAR, said Professor Quinn's impact had been wide-ranging.
"Under Professor Quinn's leadership, ICRAR has become one of the leading astronomy institutes in Australia. ICRAR researchers have published more than 2,500 refereed articles in scientific journals, with more than 90,000 citations. Additionally, ICRAR is the only Astronomical Society of Australia's Pleiades Gold award holder for its leadership in equity, diversity and inclusivity," Professor Staveley-Smith said.
Professor Quinn spent his early research career in Australia (including completing a PhD on galaxies at ANU) and the US (at Caltech and the Space Telescope Science Institute) before moving to the European Southern Observatory headquarters. There, he was Head of the Data Management and Operations Division and an early promoter of the Virtual Observatory.
In 2006, Professor Quinn was appointed as a WA Premier's Fellow at UWA, and in 2012 he was named WA Scientist of the Year. He was also instrumental in establishing the international SKA Regional Centres and helped establish the International Space Centre and Institute of Data at UWA.
From July, Professor Quinn moved to a new position in the Deputy Vice-Chancellor (Research)'s office as Executive Director of Research Initiatives in astronomy, space and data.