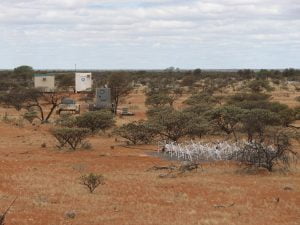 The Curtin University of Technology node of ICRAR has recently signed a contract with Astronomy Australia Limited to provide $4.6 million towards the next phase of the Murchison Widefield Array (MWA).
The $4.6 million will enable construction and early operation of the MWA radio telescope in the Murchison Radio-astronomy Observatory (MRO). It will go towards infrastructure at the MRO site in Western Australia, preparing power and network requirements for the full MWA.
The funding will also allow the MWA project to tender for advanced prototypes. Work towards these prototypes has already begun within local Perth industry.
"The next step of the project is to prepare site infrastructure, in parallel with working on more advanced prototypes for the final instrument," says ICRAR Deputy Director Professor Steven Tingay.
"This work will require new people and contracts, most to be sourced within Western Australia."
The MWA is an innovative radio telescope with no moving parts, consisting of tiles containing 16 radio antenna linked together. It uses computing techniques to look at different areas of the sky and when completed will contain 512 tiles, or over 8000 individual antenna.
"Receiving this funding is a significant step towards the final MWA instrument," says MWA Project Manager Wayne Arcus. "It will allow us to progress from the current 32 tile prototype to the full 512 tiles."
The new funding for the MWA is provided by the federal government's National Collaborative Research Infrastructure Strategy (NCRIS), which aims to fund world-class research facilities and infrastructure for Australian researchers. It adds on to funding already received for the MWA through the Education Investment Fund and the Super Science Fellowship Scheme.
The MWA is a joint project between seven Australian universities, CSIRO and partners in the US and India. Although only in prototype stages, it is already collecting scientific data. To learn more see www.mwatelescope.org