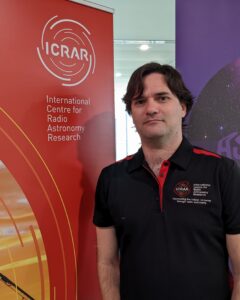 A team of Western Australian researchers have found a way to avoid the need to use radio transmitters in critical communications, using new technology featuring super-fast optical lasers.  Radio transmitters, which are still in use, were developed over a century ago.
The researchers, from the International Centre for Radio Astronomy Research (ICRAR), have been working on this project for two years, with their findings published overnight in the internationally respected science journal, Nature Scientific Reports.
Although optical communications have been in use since the 1980's, government and industry have continued to rely on radio transmission technology in settings such as satellite communications due to atmospheric turbulence.   Atmospheric turbulence causes laser beams to drift away from their intended target.
While there have been advances in the use of optical wireless communication in recent years, this WA discovery addresses the turbulence issue, by using a very fast steering mirror that can correct for turbulence at a rate of hundreds of times per second.
This means that superior optical wireless transmission can be used in more settings, reducing the need for reliance on slower radio transmission.
Lead researcher Dr Shane Walsh explains how his team have found a way to use optical communications to fix upon a rapidly moving target in a turbulent environment, with an uninterrupted, high-speed signal.
"This is a culmination of more than two years of research and testing and takes ground to space communications from what was effectively a 'dial up' speed in turbulence to a super-fast 'broadband' speed.
"I am proud that our WA team of researchers has been able to contribute a piece of this critical communications puzzle, combining existing research with our team's specialist expertise," he said.
The team's discovery was put through its paces using a drone, which simulates a rapidly moving target.  As a next step, the researchers plan to test the technology with a higher altitude aircraft and ultimately a spacecraft, in low earth orbit.
Researchers are now developing a purpose built, optical communications ground station in WA which, when complete, will allow them to further develop and commercialise the technology.  It is expected to be used by industry and governments alike, in applications as diverse as communications with spacecraft, meteorology, defence and disaster management.
About ICRAR
The International Centre for Radio Astronomy Research (ICRAR) was founded in 2009 to support Australia's bid to host the world's largest radio telescope, the Square Kilometre Array, representing one of the largest scientific endeavours in history.
Constituting a joint venture between Curtin University and the University of Western Australia, and proudly supported by the Government of Western Australia, ICRAR has grown into an internationally renowned, multi-disciplinary research centre for science, engineering and data intensive astronomy, and is one of the top 5 astronomy centres in the world.
Our prize-winning team of 135 researchers from more than 32 countries includes an ARC Laureate Fellow, several ARC Future Fellows, and several Forrest Fellows.
Our Translation and Impact team works closely with industry, government and communities to share our wealth of expertise and to help business grow.
More than half of ICRAR projects involve partnerships with international research institutions, and approximately 300 scientific papers are published annually in prestigious peer reviewed journals.
To learn more, visit icrar.org
ENDS