West Australian researchers are set to build a next-generation communications network that can send high-speed data to and from objects in space.
The $6.5 million project, which has received a $4.4 million grant from the Australian Space Agency, $500,000 each from the Western Australian Government and The University of Western Australia, will employ a new technology that uses super-fast lasers to talk to satellites and spacecraft.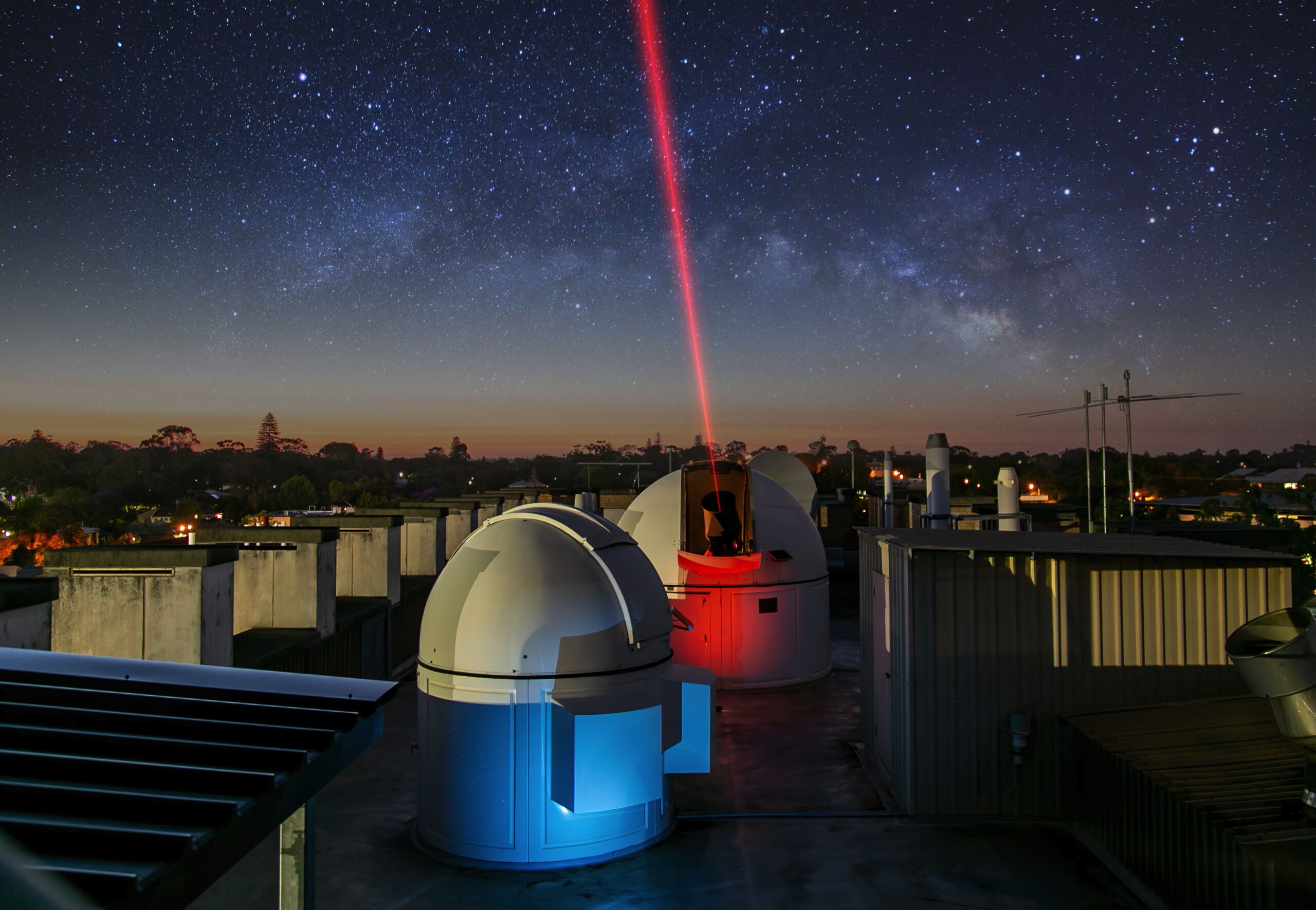 It's called 'free-space optical communications', and it's 1000 times faster than the radio communications currently used to communicate in space.
Project leader Associate Professor Sascha Schediwy, from The University of Western Australia node of the International Centre for Radio Astronomy Research (ICRAR), is a world expert in optical communications.
He said the project—called TeraNet—will be one of the first commercial optical communications networks in Australia.
The network will be capable of providing day-to-day support to missions in space.
Associate Professor Schediwy said the network's main commercial application will be transferring data to and from satellites orbiting the planet.
But the team also plans to explore high-speed communications in deep space, including to the Moon.
"It's about supporting all these different customers and space missions in low Earth orbit," Associate Professor Schediwy said.
"And then also being capable of advanced communications for things like NASA's Artemis missions to the Moon."
It means Western Australia could receive transmissions from the first woman and first person of colour to land on the lunar surface.
The network will be made up of two fixed ground stations at UWA and Mingenew, and a third, mobile station initially deployed at New Norcia.
Associate Professor Schediwy said NASA and other space agencies need communication stations worldwide to maintain continuous contact with missions as the Earth rotates.
"Western Australia's geography and climate means it's one of the best places in the world to host these ground stations," he said.
Associate Professor Schediwy's team, who are affiliated with UWA's International Space Centre, will build the network with industry partners Goonhilly Australia and Thales Australia.
Goonhilly Earth Station chief executive Ian Jones said the company has collaborated with Associate Professor Schediwy and the UWA team for a few years to develop coherent optical ground-to-space communications.
"We are delighted to now see this move to the next exciting phase where we can assist in turning this into a technically mission-ready and commercially-operational service, especially for lunar communication," he said.
"Goonhilly is the global pioneer in commercialising lunar communications and UWA is the world leader in this technology.
"This is precisely the reason we intend to grow our business in Western Australia and help to develop the lunar economy and the Australian space economy."
Along with the support from industry partners, Associate Professor Schediwy said the Australian Space Agency funding will allow Australia to develop its own optical communications infrastructure and partner with international space agencies.
"We have this leapfrog opportunity to get there first and develop this sovereign capability," he said.
"And we can reap the benefits of having Australian industries and Australian researchers involved from day one."
One of the strongest drivers for increased data rates is the rise of advanced Earth observation and imaging satellites carrying 'hyperspectral cameras'.
These satellites take high-resolution images of the Earth's surface used for disaster management and national defence, generating huge amounts of data.
"Currently, the data on some of those satellites needs to be compressed or thrown away, because the capacity is not there to downlink all that data," Associate Professor Schediwy said.
"So by expanding to optical communications, with a ground station network to support them, we'll be able to use them to their full capability."
Australian Space Agency head Enrico Palermo said the projects supported by the Agency show some of the many ways space technologies are improving how we live and work.
"By helping Australian organisations to develop their space heritage, they can break into new markets and supply chains and take their innovative Aussie technology to the world," he said.
"That will help them to grow, keep their ideas in Australia and generate more employment opportunities here."
The network is due to be completed in 2026.
MORE INFORMATION
ICRAR
The International Centre for Radio Astronomy Research (ICRAR) is a joint venture between Curtin University and The University of Western Australia with support and funding from the State Government of Western Australia.
Goonhilly Australia
Goonhilly Earth Station has been the pioneering home of satellite communications since 1962. It continues to be recognised as a premier ground station of choice for the world's major satellite operators, and has expanded its services to include lunar and deep space communications.
Thales Australia
Thales Australia is a trusted partner of the Australian Defence Force and is also present in commercial sectors ranging from air traffic management and ground transport systems to security systems and services. Thales Australia employs around 3,800 people directly and supports over 2,051 jobs along its Australian supply chain.
Geoscience Australia
Geoscience Australia is the nation's trusted source of information on Australia's earth sciences.
We apply science and technology to describe and understand the Earth and we support evidence-based decisions by government, communities and industry through information, advice and services for a strong economy, resilient society and sustainable environment.
International Space Centre
The International Space Centre is leading the way in space research, capabilities and education at the University of Western Australia.
Department of Jobs, Tourism, Science and Innovation
The Department of Jobs, Tourism, Science and Innovation lead Western Australia's economic development, international trade and investment, and tourism, and promote the defence, international education, science and innovation sectors. This includes supporting the growth of the Western Australian space sector to create jobs, diversify the economy, drive innovation and inspire a passion for STEM.
MULTIMEDIA
Video and images are available from ICRAR's multimedia archive.
Images: Credit: International Space Centre.
INTERVIEWS
Benjamin Dix-Matthews | ICRAR/UWA | benjamin.dix-matthews@icrar.org | +61 402 499 263
MEDIA SUPPORT
Charlene D'Monte
ICRAR Media Contact | charlene.dmonte@icrar.org | +61 468 579 311| +61 8 6488 7758
Annelies Gartner
UWA University | annelies.gartner@uwa.edu.au| +61 8 6488 3229