Project area/S
Economics, Public Policy, SKAO
Project Details
The proposed project aims to conduct an investigation into the economic and public policy implications of large-scale science projects with billion-dollar budgets. Science projects of this magnitude, such as the SKA (being built in WA), can potentially revolutionize scientific understanding and technological advancements. However, their substantial costs and resource allocations raise important questions about their economic impact, public policy considerations, and the allocation of public funds. This project seeks to explore these implications to provide valuable insights for policymakers, stakeholders, and the scientific community.
The SKA is a €2bn project (in 2021 €), comprising: a construction cost for two world-class telescopes of €1.3bn, and €0.7bn for the first ten years of operations (2021-2030).
The key objectives of the project include:
Assessing Economic Impacts: Investigating the direct and indirect economic impacts of large science projects on local, regional, and national economies. This includes analysing job creation, industry growth, technological advancements, and the potential for spin-off industries and commercialization.
Evaluating Public Policy Considerations: Examining the public policy implications surrounding the funding, governance, and oversight of large science projects. This involves assessing decision-making processes, accountability mechanisms, public engagement, and the alignment of these projects with broader societal goals.
 Cost-Benefit Analysis: Conducting a cost-benefit analysis of large science projects to determine their societal value and return on investment. This assessment will consider both tangible economic outcomes and intangible benefits, such as scientific discoveries, knowledge generation, and societal advancements.
Student Attributes
Academic Background
Preferably business/economics major, with interest in astronomy
Computing Skills
Experience with spreadsheets (Excel)
Training Requirement
Project Timeline
Week 1 Inductions and project introduction
Week 2 Background reading and Initial Presentation
Week 3 Assessing Economic Impacts
Week 4 Assessing Economic Impacts
Week 5 Evaluating Public Policy
Week 6 Evaluating Public Policy
Week 7 Cost-Benefit Analysis
Week 8 Cost-Benefit Analysis
Week 9 Final Presentation
Week 10 Final Report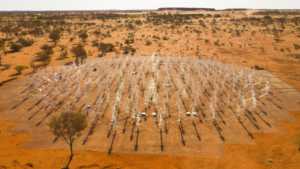 A prototype of the SKA-Low. There will be 512 such antenna stations distributed around Western Australia.
Associated Researchers

Ms Louisa Quartermaine
Project Manager
Read More