The International Centre for Radio Astronomy Research (ICRAR) has receieved a Gold Pleiades Award from the Astronomical Society of Australia for its commitment to advancing diversity and inclusion in astronomical sciences and technology.
The Pleiades Awards recognise organisations in Australian astronomy that take active steps to advance the careers of a diverse population and strive for sustained improvement in providing opportunities for under represented groups to achieve positions of seniority, influence and recognition.
Pleiades Awards last for two calendar years from the 1st of January each year, and holders must re-apply for accreditation every two years. ICRAR has received Gold awards in both 2021 and 2019.
Dr Elisabete da Cunha , who chairs ICRAR-UWA's Diversity, Equity and Inclusion (DEI) Committee, said that the award was a valuable recognition of the work done at ICRAR to promote diversity, equity, and inclusion in the workplace.
"I would like to thank and highlight everyone who contributed to this, namely our DEI committee members who over the years generously contribute their time, effort, and passion into our common mission, and also the ICRAR Exec for helping put DEI values at the front and centre of our organization.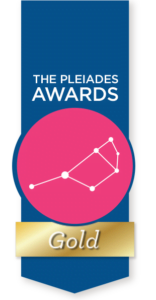 "We are humbled by this award, and energised to continue our work!" said Dr da Cunha.
ICRAR Interim Executive Director Professor Lister Staveley-Smith congratulated the UWA node of ICRAR on yet another Gold Pleiades award, and specifically called out the work of the DEI committee at ICRAR/UWA and the DevCom committee at ICRAR/Curtin.
"Thanks to the DEI and Devcom committees at both ICRAR nodes for the huge amount of time they have invested in helping maintain such a positive culture across our Centre," Prof Staveley-Smith said.