Picosat Systems and the International Centre for Radio Astronomy Research (ICRAR) have trialled a satellite deployment on a "Zero-G" flight above France.
ICRAR researcher Dr Danail Obreschkow used a custom-built, handheld device designed by the Perth technology company Picosat Systems to show that their "satellite deployer" could release a miniature satellite in near weightlessness conditions—an important step for the WA company which is looking to put miniature satellites in space by 2019.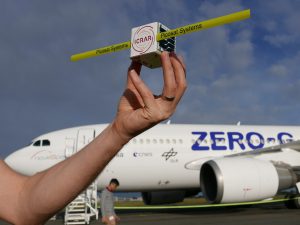 "This special parabolic flight, operated by the European Space Agency, is the only way to perform tests in microgravity without going through lengthy astronaut-training and somehow getting yourself to the International Space Station," Dr Obreschow said.
"The handheld deployer worked perfectly, producing only a small wobble as the satellite's antenna unfolded and almost no rotation at all—exactly what you want when it comes to the real thing," he said.
The successful trial comes at the end of a year when Australia's future involvement in an industry worth more than US$300 billion dollars globally has been in the headlines with the announcement of an Australian Space Agency and the International Astronautical Congress in Adelaide.
Picosat Systems, a small satellite solutions provider, aims to reduce the barriers to space flight by lowering the costs associated with putting something in orbit around Earth. The company has developed a low cost pico-satellite called OzQube-1 which weighs less than a kilo and has the potential to be deployed in large numbers.
"As a technology start-up, we're innovating and learning as we go, and developing our space capabilities as we finalise the design of our satellite, OzQube-1," said Conrad Pires, co-founder and chief executive of Picosat Systems.
"When we put our OzQube satellites into orbit, the last thing we want to happen is for them to get trapped or damaged as they're ejected from the launch vehicle—so the design of the deployment system is absolutely key to our success," Pires said.
"Being able to test the satellite deployer on board a Zero-G flight, thanks to ICRAR and the European Space Agency, has given us an incredible opportunity to prove that our design works and help us to refine things as we work towards putting our satellites into orbit in 2019," he said.
"We're proud to be partnered with ICRAR and look forward to working with them in the emerging space industry here in WA."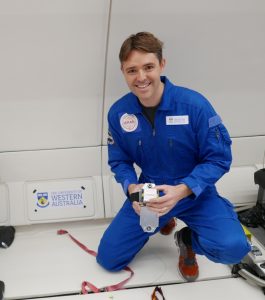 Picosat Systems was the winner of the Woodside Oil and Gas Encouragement Award at the 2017 WA Innovator of the Year Awards. Planned uses for its satellite platform include imaging the Earth and providing communications capabilities for industries such as resources, agriculture and defence.
MORE INFORMATION
Picosat Systems
Based in Perth, Western Australian, Picosat Systems is a small satellite solutions provider, aiming to reduce the barriers to space flight. By taking advantage of advances in technology and lower rocket launch costs, it has developed its first solution, a low cost pico-satellite platform called OzQube-1. With a mass of up to 1 kilogram each, its satellites enable easier access into space for industry, research and government. www.picosat.systems
ICRAR
The International Centre for Radio Astronomy Research (ICRAR) is a joint venture between Curtin University and The University of Western Australia with support and funding from the State Government of Western Australia. www.icrar.org
WA Innovator of the Year Awards
The awards, which are in their eleventh year, acknowledge and reward exceptional Western Australians which have developed an outstanding innovative product, technology or service. The winners for 2017 were:
Mitsubishi Corporation WA Innovator of the Year award: Curtin University
Mitsubishi Corporation Emerging Innovation Category: Safescape
Mitsubishi Corporation Growth Category: Rocks Gone Pty Ltd
Woodside Oil and Gas Encouragement Award: Picosat Systems Pty Ltd
South32 Designing for Excellence Encouragement Award: Onesun Pty Ltd
Young Innovator of the Year: TOLKA from Como Secondary College
CONTACT INFORMATION
Conrad Pires (CEO / Co-founder, Picosat Systems)
Ph: +61 410 017 637           E: Conrad@picosat.systems
Dr Danail Obreschkow (ICRAR / UWA) 
Ph: +61 424 662 252           E: Danail.Obreschkow@icrar.org
Pete Wheeler (Media Contact, ICRAR)
Ph: +61 423 982 018               E: Pete.Wheeler@icrar.org
More MULTIMEDIA