Stargirls STEM Camp 2023
Date: 23/01/2023
---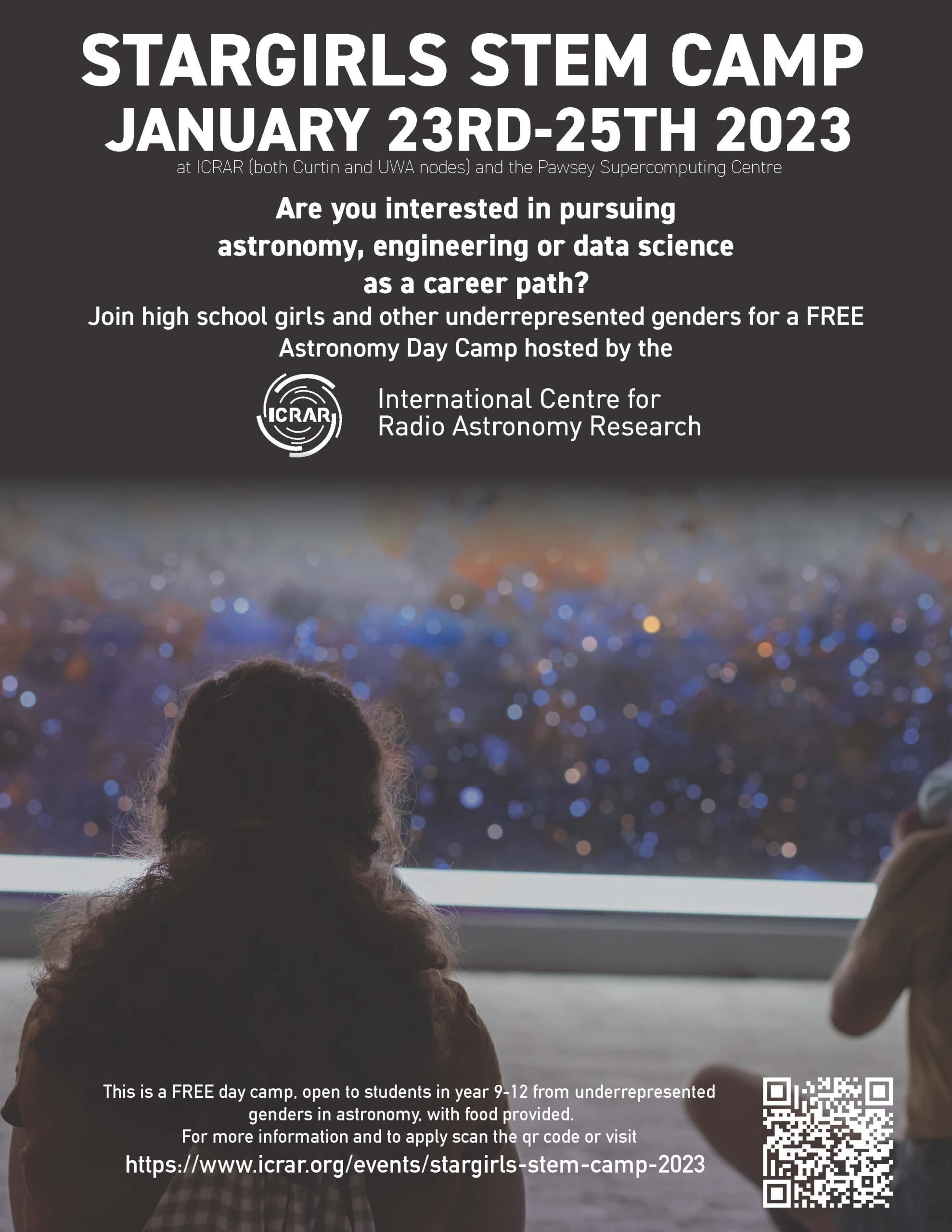 On January 23rd- 25th 2023 ICRAR will be hosting the Stargirls STEM Camp.
This camp is a FREE event, open to all high school girls and underrepresented genders in year 9-12. If you are interested in an Astronomy, Engineering  or Data Science career, this is an opportunity to practice some real-world astronomy and talk to leading women and people in the field.
Throughout the three day event there will be the opportunity to:
Access and use research-grade telescopes
Talk with leading people in Astronomy and related fields
Visit Pawsey Supercomputing Centre to learn about data intensive astronomy
Participate in a night time stargazing event
Complete a host of other astronomy related activities
Please note: This is a day camp, which would require transport to and from site each day.
Itinerary:
23rd January – ICRAR UWA Ken and Julie Michael Building, 7 Fairway, Crawley
24th January – Morning at ICRAR Curtin Brodie Hall Building, 1 Turner Avenue, Bentley
Afternoon at Pawsey Supercomputing Centre, 1 Bryce Avenue, Kensington (these buildings are walking distance from each other)
25th January – Stargirls STEM Camp at ICRAR UWA Ken and Julie Michael Building, 7 Fairway, Crawley. A night time stargazing event on the Matilda Bay foreshore. Parents and family members are invited to attend the stargazing event, starting at 5.30pm.
Food will be provided throughout the event.
If you are interested in Astronomy, and would like to attend the camp then fill out the form below. Spots are limited so please apply as soon as possible. If you have any questions please contact SPIRIT Coordinator Melissa Van Dam at melissa.vandam@icrar.org
APPLICATIONS WILL BE CLOSING AT 11.59PM DECEMBER 9TH 2023. PLEASE GET YOUR APPLICATIONS IN BEFORE THEN.
PLEASE NOTE: WE ARE ONLY ABLE TO ACCEPT APPLICATIONS FROM THOSE WHO HAVE NOT PARTICIPATED IN STARGIRLS STEM CAMP PREVIOUSLY
---
Location
Address: UWA, Stirling Highway, Crawley WA, Australia