Biography
Dr Sascha Schediwy is the leader of the Astrophotonics Group at ICRAR/UWA. He is also a member of the international Signal and Data Transport (SADT) consortium working on synchronisation and timing for the Square Kilometre Array (SKA) telescope. As part of this work, he leads an international effort to design, test, and construct an optical fibre-based phase synchronisation system for the SKA. His group conducts astronomical verification experiments of this system using the ASKAP telescope at the Murchison Radio Observatory (MRO) and the Australia Telescope Compact Array in NSW, as well as field test on the MeerKAT fibre networks at the South African SKA site.
In addition to Sascha's SKA research, he also works on a space science project to develop ultra-precise laser timing links to support the next-generation of pioneering space missions. This includes establishing a ground-to-space laser timing link between the Western Australian Space Centre (near the MRO), and the International Space Station. Other current research includes development of an advanced optical phased array to power near-lightspeed interstellar travel and an optical fibre-based distributed acoustic sensing system.
During his postdoctoral position in the Astrophysics Department at the University of Oxford, Sascha was involved in the development of phased array technology for the SKA. For his PhD, he worked on the Advanced Laser Interferometer Gravitational-Wave Observatory at Caltech, with undergraduate studies at Curtin University in planetary science studying moon rocks from NASA's Apollo missions.
Astrophotonics Group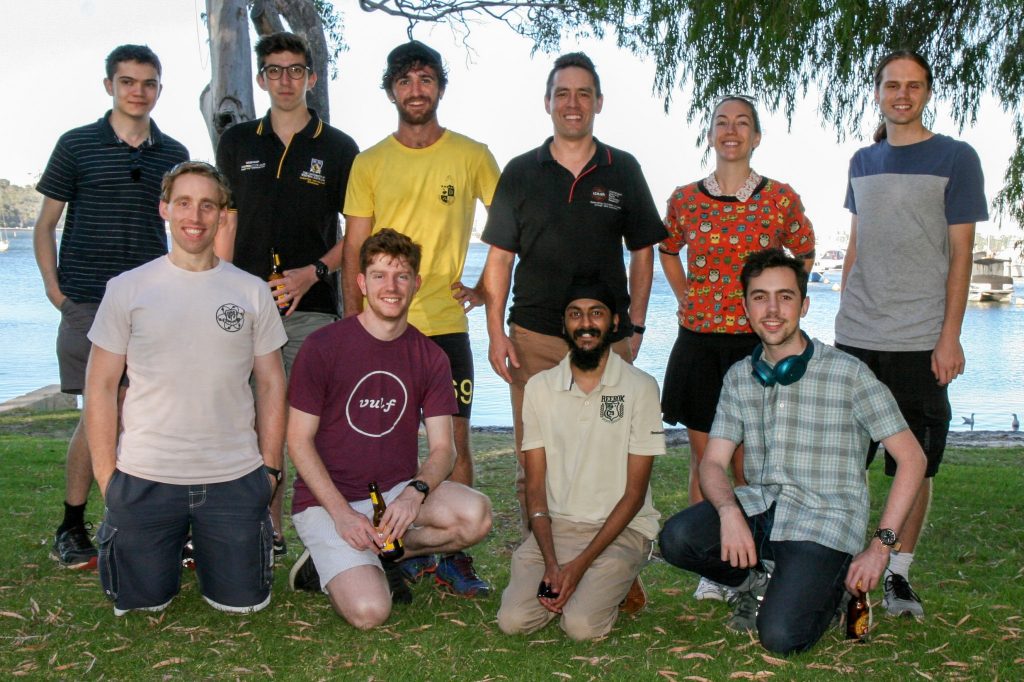 Group photo with some current and former students.
Current Research Projects
Synchronisation of the Square Kilometre Array Telescope
Building the World's First Long-Baseline Optical Astronomical Interferometer
Coherent Free-Space Laser Links for Space Applications
Development of an Optical Phased Array to Power Near-lightspeed Interstellar Travel
Please email me for more information.
Current Committees
International Centre for Radio Astronomy Research (ICRAR) Diversity Equity and Inclusivity (DEI) Committee
ARC Centre of Excellence for Engineered Quantum Systems (EQuS) Equity in Quantum Physics (EQUIP) Committee
Links
ICRAR Statement
The content of this page is maintained by Sascha Schediwy, please contact them with any questions or comments on this content.