A third year PhD student in computational astrophysics under the supervision of Chris Power and Aaron Robotham at the UWA node of ICRAR.
I am an international student from the UK, having completed my undergraduate MSci Physics with Astronomy degree in 2016 at the University of Nottingham. During that time, my research projects covered a broad range of topics – from the analysis of merger detection statistics in semi-analytic models to the study of galaxy dynamics and gas stripping using Chandra archival data.
My research:
The aim of my current research is to investigate how well we can recover the kinematics of galaxies observationally using N-body and hydro-dynamical simulations. Over the course of my PhD, I have designed a tool with which you can generate synthetic integral field unit (IFU) kinematic data cubes – an R-package called SimSpin – which will take the particles of a simulated galaxy and produce a 3D array describing the flux and velocity distributions that you would observe with a given IFU telescope.
I have been using this tool to investigate how accurately we can recover observed galaxy kinematics (such as λR and V/σ). Further plans include modifications to SimSpin to generate HI data-cubes and examining the origins of anomalous gas within hydrodynamical simulations.
To check out SimSpin in web app form, click here. A demonstration of the app is shown below:
Using this tool, we have empirically defined some corrections for the effects of seeing on λR and V/σ.  As shown in the figure below, by applying our correction to observations made at a variety of seeing conditions, we can return measured values back to within 0.02 dex and 0.06 dex of their true, intrinsic values for λR and V/σ respectively. These corrections can be applied using the Python script here.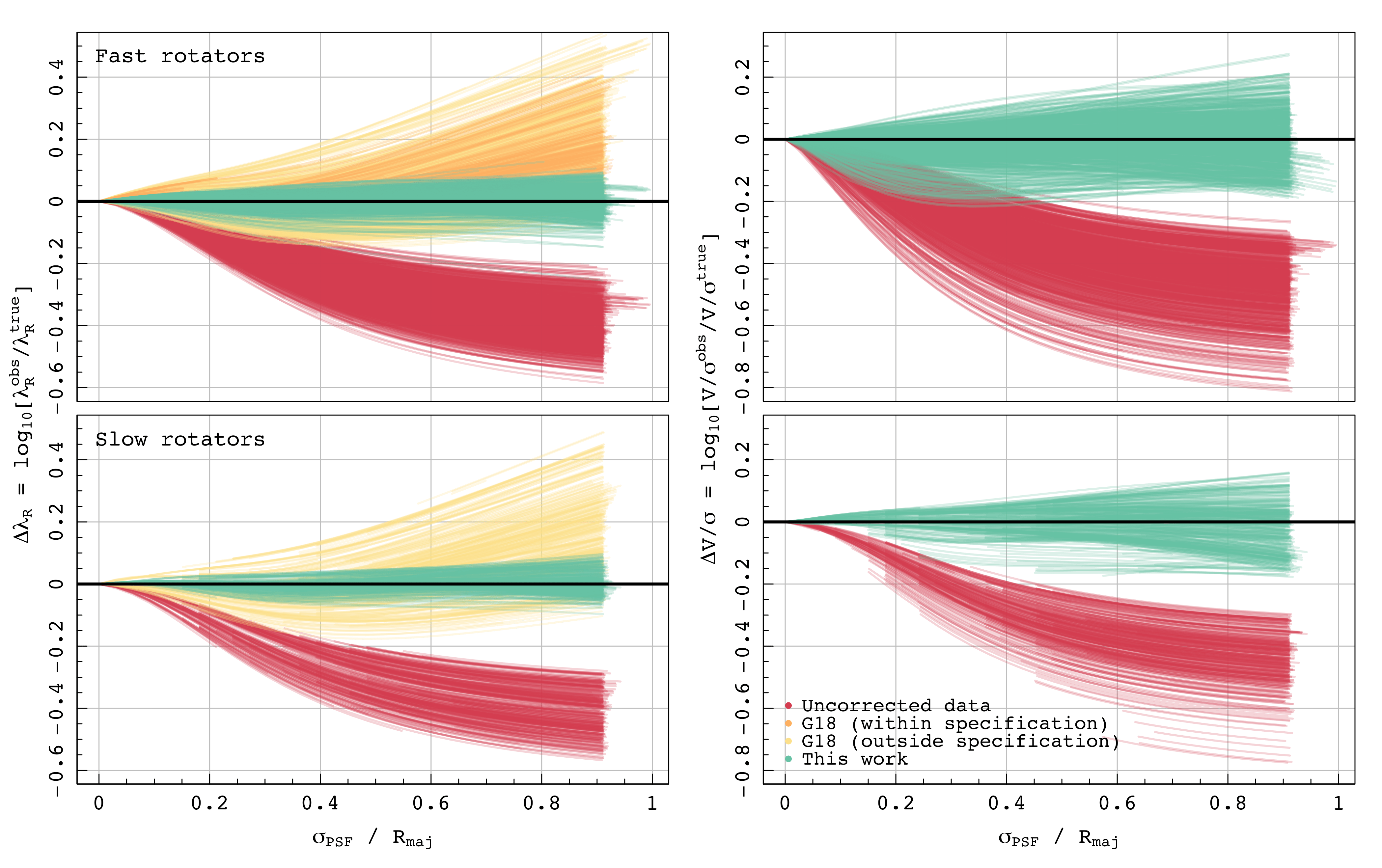 Publications:
"SimSpin: Kinematic analysis of galaxy simulations", Harborne, K.E., Astrophysics Source Code Library, record ascl:1903.006, March 2019
"A numerical twist on the observable spin parameter, λR",  Harborne, K.E. et al., Monthly Notices of the Royal Astronomical Society, Volume 483, Issue 1, p.249-262, February 2019
"OMEGA – OSIRIS mapping of emission-line galaxies in A901/2 – IV. Extinction of star formation estimators with inclination", Wolf, C. et al., Monthly Notices of the Royal Astronomical Society, Volume 480, Issue 3, p.3788-3799, November 2018
ICRAR Statement
The content of this page is maintained by Kate Harborne, please contact them with any questions or comments on this content.