In addition to the multimedia also available on the ICRAR website, listed below are resources on astronomy and the Square Kilometre Array for almost any situation.
Please contact us if you're after a particular resource and don't find what you're looking for here.
SKA Augmented Reality colouring sheet
You can view the telescopes from all angles, read more information about each telescope site (South Africa and Australia), and watch videos about radio telescopes and the Square Kilometre Array.
---
Australian SKA site virtual tour
Welcome to the Murchison Radio-astronomy Observatory (MRO), Australia's SKA site!
Created by ICRAR, CSIRO and the Australian SKA Office, this virtual tour of the MRO includes information and 360 degree views of all the key locations on site, including:
SKA Precursors, the Murchison Widefield Array (MWA) and CSIRO's Australian SKA Pathfinder (ASKAP).
SKA-low prototype stations, the Aperture Array Verification System (AAVS) and Engineering Development Array (EDA)
The MRO Control Building.
The Solar Hybrid Power Station.
The Pawsey Supercomputing Centre in Perth
Virtual tour design and coding by Red Empire Media.
---
Cosmos Computing
A flexible lesson for upper primary aimed at the Digital Technologies curriculum. Students roleplay the components of a computer, gaining an innate understanding of what each part does and how a computer works.
Full cosmos computing resources, including lesson plan and templates
---
How big are the planets?
With a big lump of PlayDoh and a ruler, make a scale model of the Solar System following these simple instructions.
WORKSHEET *Note, you will need approximately 2kg of PlayDoh for this activity.
---
Space the final frontier (2019)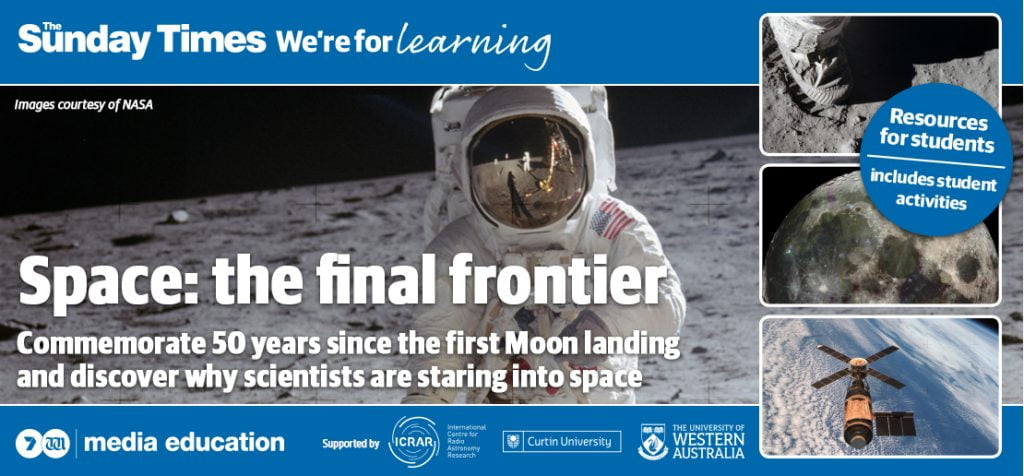 Commemorate 50 years since the first Moon landing and discover why scientists are staring into space in a three part resource series from Seven West Media Education, in collaboration with ICRAR.
Supporting the WA Curriculum: Science and HASS, these resources have themed activities, information and an answer guide.
Please note these resources are for classroom use only, and may not be used or reproduced for any other purpose.
---
Study Astronomy factsheets
Information on how to study astronomy in Western Australia with ICRAR is summarised on these two factsheets, one for students considering undergraduate study and one for students considering postgraduate study.
Coursework Study Postgrad research
---
Weighing a Galaxy Activity
Learn how to weigh one of the biggest objects in the Universe – a galaxy! Using real data from optical and radio telescopes this worksheet goes through all the steps to weigh a galaxy. There are two versions of the activity (split by year group) and usually the activity is done with the help of an ICRAR staff member explaining each step as it's happening. This activity would be suitable for independent work by advanced students. Students will need a scientific calculator and a ruler to complete the activity.
Years 8 to 10 version
PRESENTATION (PDF) WORKSHEET SOLUTIONS
Years 11 and 12 version
Presentation (pdf) WORKSHEET SOLUTIONS
PRINTOUT 1 (SPECTRUM) PRINTOUT 2 (OPTICAL IMAGE)
---
GLEAMoscope Virtual Reality
This app, available on Apple and Android devices, showcases the West Australian night sky, radio astronomy and the SKA telescope project. It shows off what the SKA might look like and gives you an on-the-ground feeling of being there at the Murchison Radio-astronomy Observatory.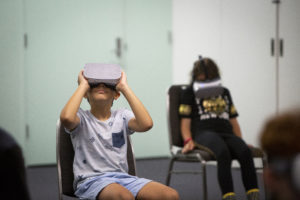 This virtual version is in the outback at night time, showing the visible Universe as well as the sky as seen with 'radio eyes' and other wavelengths. You can switch between the wavelengths, see interesting objects and then query those objects and find out more about them. The app has been designed for everyone, not just people who have access to virtual reality equipment. It requires only a smart phone and a Google Cardboard, which can be bought online for about $20.
GLEAMoscope mobile app
The latest GLEAMoscope mobile app has been released, and this one doesn't need a headset to use! You can download from the Apple Store or Google Play and view the sky with radio eyes.
GLEAMOSCOPE desktop
Virtual Reality Case Study
---
Cosmology 101
What is Cosmology? What does the Universe look like?
What will happen to the Universe in the future? What do we know about the Universe and how do we know it?
Cosmology is a large and complex area of astronomy that attempts to answer the big questions about our Universe. During his time at ICRAR Dr Alan Duffy hosted teacher professional development sessions in conjunction with SPICE aiming to provide an introduction to the concepts of cosmology and to assist with teaching about the Universe.
COSMOLOGY 101 PRESENTATION SLIDES (PDF, 14MB)​
---
Square kilometre array links
SKA AUSTRALIA WEBSITE SKA International website  SKA MULTIMEDIA
---
Astronomy lectures
During the 2019/20 COVID-19 pandemic lockdowns, our researchers presented live streams on our YouTube channel.
---
astroEDU
AstroEDU is a database of astronomy activities that targets activity guides, tutorials and other activities in the area of astronomy education, prepared by teachers, educators and education specialists. Each of the astroEDU activities has been peer-reviewed by an educator and an astronomer to ensure a high scientific and educational standard.
---
Meet an Astronomer
Our research staff & students tell you why they got into astronomy in these short, self-contained videos.