In addition to the multimedia also available on the ICRAR website, listed below are resources on astronomy and the Square Kilometre Array for almost any situation.
Please contact us if you're after a particular resource and don't find what you're looking for here.
Primary School Resources
Cosmos Computing
A flexible lesson for upper primary aimed at the Digital Technologies curriculum. Students roleplay the components of a computer, gaining an innate understanding of what each part does and how a computer works.
Full cosmos computing resources, including lesson plan and templates
Build your own SKA antenna
Build a model Square Kilometre Array station out of paper.
DISH TEMPLATE SKA ARRAY STATION INSTRUCTIONS
How big are the planets?
With a big lump of PlayDoh and a ruler, make a scale model of the Solar System following these simple instructions.
*Note, you will need approximately 2kg of PlayDoh for this activity.
SKA Comics
Meet the SKAnimals! Courtesy of the International SKA Office, learn more about the Square Kilometre Array from the SKAnimals.
Secondary School Resources
Space the final frontier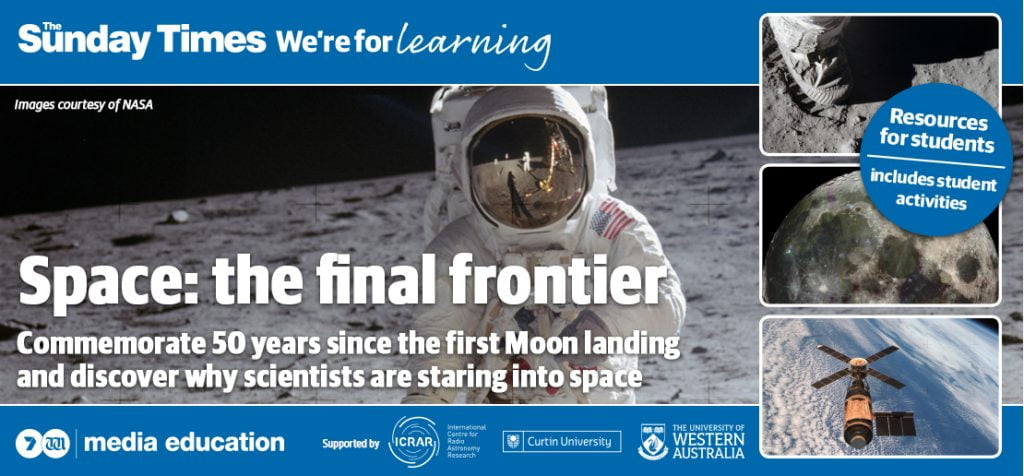 Commemorate 50 years since the first Moon landing and discover why scientists are staring into space in a three part resource series from Seven West Media Education, in collaboration with ICRAR.
Supporting the WA Curriculum: Science and HASS, these resources have themed activities, information and an answer guide.
Please note these resources are for classroom use only, and may not be used or reproduced for any other purpose.
Study Astronomy factsheets
Information on how to study astronomy in Western Australia with ICRAR is summarised on these two factsheets, one for students considering undergraduate study and one for students considering postgraduate study.
STUDY WITH ICRAR POSTGRADUATE STUDY WITH ICRAR
Weighing a Galaxy Activity
Learn how to weigh one of the biggest objects in the Universe – a galaxy! Using real data from optical and radio telescopes this worksheet goes through all the steps to weigh a galaxy. There are two versions of the activity (split by year group) and usually the activity is done with the help of an ICRAR staff member explaining each step as it's happening. This activity would be suitable for independent work by advanced students. Students will need a scientific calculator and a ruler to complete the activity.
Years 8 to 10 version
PRESENTATION (PDF) WORKSHEET SOLUTIONS
Years 11 and 12 version
Presentation (pdf) WORKSHEET SOLUTIONS
PRINTOUT 1 (SPECTRUM) PRINTOUT 2 (OPTICAL IMAGE)
Other Resources
Astronomy Posters
ICRAR's research covers a wide range of topics and physical processes. Occasionally our staff and students produce posters/flyers about objects in space that might be of use for personal learning resources or in the classroom.
Blazars: The universe's bizarre and violent galactic monsters
Author: David English.
Cosmology 101
Join ex ICRAR researcher Dr Alan Duffy for a crash course in Cosmology, from the origins of our Universe to how astronomers can possibly know how long ago the Big Bang happened.
The MRO in Google Earth
Future site of the Square Kilometre Array in Australia, the Murchison Radio-astronomy Observatory (MRO) currently hosts two world class telescopes, CSIRO's Australian SKA Pathfinder (ASKAP) and the Murchison Widefield Arrray (MWA). See where they are and what the region looks like in this specially made map for Google Earth.
Web Links
SKA AUSTRALIA WEBSITE SKA International website
astroEDU
AstroEDU is a database of astronomy activities that targets activity guides, tutorials and other activities in the area of astronomy education, prepared by teachers, educators and education specialists. Each of the astroEDU activities has been peer-reviewed by an educator and an astronomer to ensure a high scientific and educational standard.