GLEAMOSCOPE VIRTUAL REALITY
This app, available on Apple and Android devices, showcases the West Australian night sky, radio astronomy and the SKA telescope project. It shows off what the SKA might look like and gives you an on-the-ground feeling of being there at the Murchison Radio-astronomy Observatory.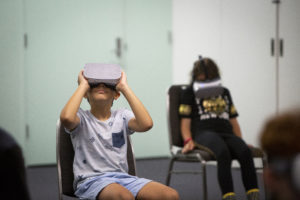 This virtual version is in the outback at night time, showing the visible Universe as well as the sky as seen with 'radio eyes' and other wavelengths. You can switch between the wavelengths, see interesting objects and then query those objects and find out more about them. The app has been designed for everyone, not just people who have access to virtual reality equipment. It requires only a smart phone and a Google Cardboard, which can be bought online for about $20.
GLEAMoscope mobile app
The latest GLEAMoscope mobile app has been released, and this one doesn't need a headset to use! You can download from the Apple Store or Google Play and view the sky with radio eyes.
GLEAMOSCOPE desktop
Virtual Reality Case Study