ICRAR Visiting Fellowship For Senior Women In Astronomy
ICRAR is committed to supporting women in astronomical sciences and technology.
Join our vibrant research community for a three month fully-funded visiting fellowship in Perth, Western Australia.
Purpose of the Fellowship
ICRAR is committed to supporting women in astronomical sciences and technology. This fellowship is aimed at providing an opportunity for senior women astronomers (having more than five years research work experience post PhD) to visit ICRAR and interact with ICRAR researchers and graduate students. The main objectives of the fellowship are to:
Enrich the research environment at ICRAR
Create opportunities to foster national and international collaborations
Enable scientific interaction between early career researchers and graduate students, particularly women, with senior academic visitors
Create opportunities for young researchers to learn career development and work-life balance strategies from potential role models
Explore opportunities for developing mentoring relations.
The Fellow is expected to take part in a range of mutually discussed and agreed activities in line with the objectives of the Fellowship.
What the Fellowship provides
ICRAR will offer one fellowship per calendar year and will provide:
$5,000 per month for two to three months for living and accommodation expense.
Travel assistance of up to $5,000.
Needs-based additional support of up to $4,000 may be provided for childcare or other required support.
Applications
Applications for the 2016 fellowship closed on June 15th. The selected visiting fellow must take up their Fellowship at ICRAR prior to 31 July 2017. Any further delays will lead to cancellation of the Fellowship offer. The visit may be split into two with mutual agreement with no additional funding requested.
The information required in the application included:
A personal statement on supporting women in astronomy.
The proposed duration of the visit and dates.
The research activity to be undertaken at ICRAR and the name of an ICRAR collaborator.
How the visit will address the objectives of the fellowship as listed above.
A full CV and a suggested topic for a research seminar.
Applications will be reviewed by ICRAR and applicants will be informed of the outcome by the 15th of July, 2016.
Please send completed applications to info@icrar.org. Please contact ICRAR Associate Director, Dr Renu Sharma for additional details or questions regarding this fellowship.
Fellowship recipients
Associate Professor Vernesa Smolcic (2015 fellowship recipient)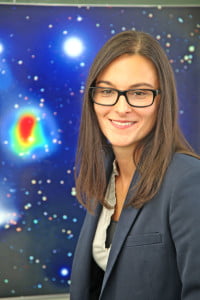 ICRAR Visiting Fellow (2 Nov to 29 Dec 2015)
Physics Department, Faculty of Science University of Zagreb
Vernesa Smolcic is an observational astrophysicist whose work focuses on understanding how galaxies form and evolve through cosmic time. Her expertise are radio continuum surveys, and multi-wavelength analyses of star forming galaxies and active galactic nuclei, and their cosmic evolution. At ICRAR she will investigate the evolution of active galactic nuclei across cosmic time in synergy between observations and theory.
She currently holds an associate professorship at the Physics Department, Faculty of Science University of Zagreb, Croatia. Prior to this she was assistant professor at the same department (2010-15), ESO ALMA COFUND Fellow (European Southern Observatory, Argelander Institute for Astronomy, Bonn, Germany), CARMA postdoctoral scholar (California Institute of Techology, California, USA, 2008-10). She did her PhD at the Max-Planck Institute for Astronomy and Ruperto-Carola University (Heidelberg, Germany).
Dr. Smolcic is the head of the Croatian Physical Society 'Women in Physics' group, and their science section. She holds the European Research Council Starting Research Grant and Marie Curie Career Integration Grant. She has supervised a number of undergraduate and graduate students. Dr Smolcic will be at ICRAR for two months from November to December 2015 as ICRAR Visiting Fellow.
More information at http://zgal.phy.hr and www.phy.pmf.unizg.hr/~vs.
Image of Dr Smolcic credit Damir Fabijanic.
Dr Andreea Font (2014 fellowship recipient)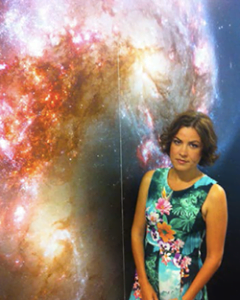 ICRAR Visiting Fellow (21 Sept to 29 Nov 2015)
Senior Lecturer, Liverpool John Moores University
Dr Andreea Font is a computational cosmologist, whose work focuses on understanding the formation and evolution of galaxies. At ICRAR, she will investigate how the formation histories of dwarf galaxies influence the properties that we observe today, using state-of-the-art cosmological galaxy formation simulations. Dwarf galaxies are a sensitive test of our theories of galaxy formation, and the effects of such assembly bias could be detectable with future observations, such as the WAVES galaxy survey which is being led by researchers at ICRAR/UWA. This work will be carried out in close collaboration with Dr Chris Power, Dr Claudia Lagos and Dr Aaron Robotham.
She currently holds a lecturership at the Astrophysics Research Institute at Liverpool John Moores University. Prior to this, she held a Royal Society "Dorothy Hodgkin" fellowship at the Institute of Astronomy in Cambridge (awarded in 2009) and an STFC Postdoctoral fellowship at the Institute of Computational Cosmology at Durham University (2006-2009). She obtained a Ph.D. in Astrophysics from the University of Victoria, Canada in 2005.
Dr Font enjoys discussing science with and working with young researchers. She has supervised a large number of senior undergraduate and graduate students, of which a number have produced scientific publications in high quality journals as a result. She is a strong advocate of advancing women in science-based careers. She has been a member of the STFC Women in Science, Engineering, and Technology Focus Group (between 2011 – 2015) and currently she is a member of the Athena Swan committees at LJMU at both Faculty of Science and University level. She believes that establishing a healthy work-life balance has been absolutely essential in her career.