The nearest galaxies to our own are resolvable – with the right telescope, such as the Hubble Space Telescope, individual stars can be discerned.  The colours and luminosities of the stars provide evidence of their age, mass, and evolutionary state.  However, the colour magnitude diagram of young resolved stellar populations is degenerate – the distribution of stars depends on both the Star Formation History and the Initial Mass Function (IMF) of the stellar populations sampled.  The standard approach the community has taken is to assume a canonical Initial Mass Function and solve for the Star Formation History.  Our team has adopted the lesser used approach, of assuming a likely constant rate of star formation and solving for the Initial Mass Function.  We have employed this approach in a variety of nearby galaxies.  We find that in low surface brightness galaxies and galaxy outskirts, that the formation of the highest mass stars is suppressed relative to lower mass stars compared to the canonical Kroupa Initial Mass Function.  This result is consistent with findings using integrated H-alpha and ultraviolet fluxes, but using completely different techniques.
For this PhD thesis project the student will extend our previous work as follows: (1) the methods we developed will be automated and applied to a suitably large sample of optical images from the Hubble Space Telescope.  (2) The technique will be extended to work with data obtained in the ultraviolet and near infrared.  (3) The results will be compared with radio images, including those obtained with the next generation of radio telescopes (ASKAP, ALMA, MeerKAT), in order to determine how the star formation rate and Initial Mass Function depend on the local interstellar medium.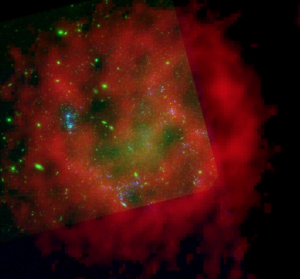 The dwarf galaxy HIPASS J0351-38 as seen by the Hubble Space Telescope in the ultraviolet (blue) and near infrared (green) compared with its structure in the atomic Hydrogen emission line (HI) at 21cm (red) as seen with the MeerKAT radio telescope.  Newly formed stars (cyan) can be found in the ridges of HI, but also in a cavity apparently created by the newly formed stars.