The new Australian Square Kilometre Array Pathfinder (ASKAP) in Western Australia will be the most powerful survey instrument in the world for the study of the gaseous properties of galaxies at moderate angular resolution. It will transform our understanding of the relationship of the cool gas in galaxies with other components such as stars, ionised gas and molecular gas. It will also explore the distribution of dark matter in galaxies and in the nearby Universe.
This project will use the early science phase of ASKAP (ASKAP-12) to undertake a study of the environmental properties of galaxies. In particular, we know that there are gravitational and hydrodynamic forces that will remove gas from galaxies located in massive galaxy clusters. But these forces also seem to operate in an efficient manner in smaller groups of galaxies, giving rise to a strong density dependence in the gaseous properties of galaxies that is not understood. Part of the problem is the lack of under- standing of the location of the diffuse ionised 'cosmic web' where about 50% of the normal 'baryonic' material in the Universe is supposed to reside. Part is due to lack of understanding of the early radiation conditions in dense environments.
Observations with ASKAP-12 will help answer these problems by detecting and measuring the detailed properties of thousands of galaxies in a range of environments, thereby gathering sufficient information and statistical accuracy to unequivocally separate out the various physical processes and work, and helping build a fuller picture of galaxy formation and evolution. The project involves gathering 21cm ASKAP data in several early science fields, reducing and analysing the data, extracting kinematic information from the data cubes and examining systematic trends of the data with overall galaxy density as determined from optical red- shift surveys.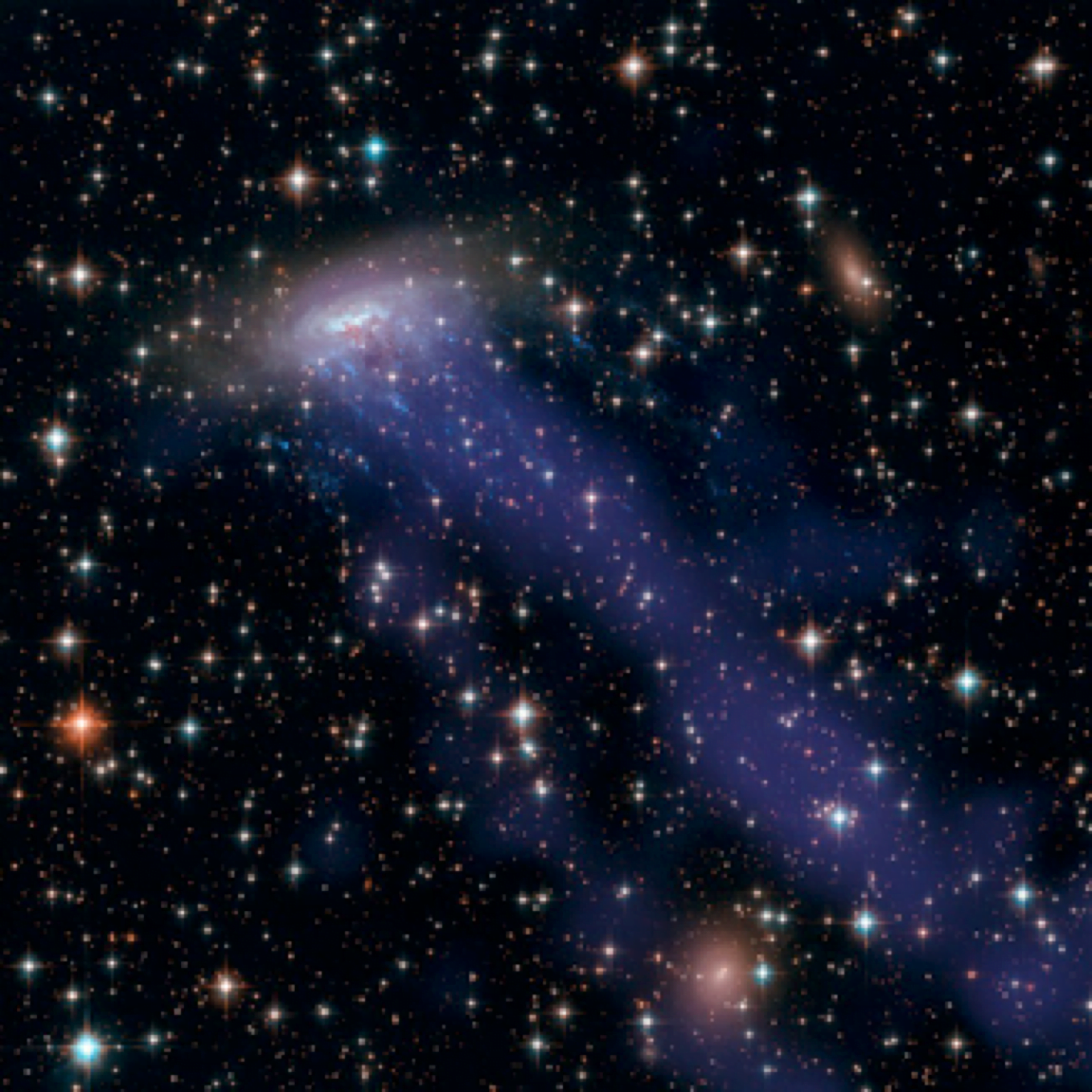 Gas being stripped from a spiral galaxy as it plunges into a dense cluster