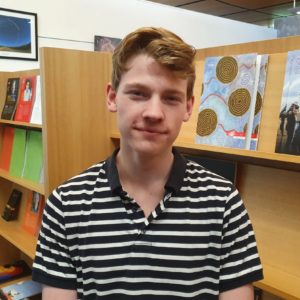 Learn to code! ICRAR work experience blog 2019
Interested in the universe? Engineering? Astrophysics? Then ICRAR work experience is the perfect opportunity for you. Each day you will talk to PhD students studying revolutionary topics, talk to doctors and researchers and do hands on tasks that will ultimately help you narrow down what it is you want to do. With the sheer breadth of careers covered and areas of research explored there is something for everyone at ICRAR. I knew straight away I was in for a treat when I was first in touch with Greg from ICRAR, his title Cosmos Consultant, which initially made me chuckle, made it clear this was serious business.
Day 1
Arriving at Curtin University on the first day you will meet the 2 staff that will be looking after you. For me, Kat and Pikky (both PhD students) looked after me and the 4 other students that were doing work experience with me. The other work experience kids that you will spend all of your time with are very similarly minded and great people. I personally had come all the way from Melbourne to do work experience at ICRAR after hearing about just how incredible and ground-breaking the work done here is. On day 1 we covered the following topics: Pulsars, the cosmic web, data visualisation and the radio telescopes in Australia. Hands on activities using python allowed us to plot locations of pulsars gathered with the incredible Murchison Wide field array telescope, which brings me to my first point, learn to code. Throughout the day the PhD students we talked to all shared the common belief that coding is one of the most important skills to have to make it as a physicist. We then sat it on an 18 month review for a PhD by Torrance Hodgson about 'Searching for the synchrotron web' obviously very advanced physics the majority went over my head but the takeaway was not about the presentation but how the data is presented and most interestingly the discussion that is sparked between other research fellows that were present. Throughout the week one of the most valuable things you will learn is about what university is right for you so ask questions! Everyone has a different perspective on what Uni is best and what the right career path is, being educated by multiple sources about what's out there allows you to make the best decision for you which is one of the most valuable things available to you at ICRAR. Doing work experience at ICRAR helped me decide exactly what it is I want to do.
Day 2
In order to get the full coverage of what ICRAR has to offer day 2 was spent at ICRAR's other node at UWA. Day 2 we learnt about: interferometry, exoplanets, the petabytes and numbers behind the SKA a revolutionary radio telescope set to be up and running by 2028. And this was all in the first hour. Did you know that our closest neighbour in the galaxy actually has 3 suns that all orbit around each other? And have you heard about the supercomputer that we have imported from the U.S. to deal with the petabytes of data that will be collected from the SKA? What about this, did you know that of the whole universe we've only seen the equivalent of 1 glass of water from the whole ocean? No me either, thanks ICRAR. The highlight of the day was talking with Dr Danail from Geneva. Dan told us all about dark matter or at least everything we know about it, being one of the most mysterious and confusing things in the cosmos. There is 5 times as much dark matter as there is everything else in the universe and yet we have no idea what it is. It was awesome to hear other researches at ICRAR fanboy over Dan, one is quoted as saying "did you know Dan was almost an astronaut?" amazing. Dan's most important message, also echoed everyone else at ICRAR UWA was 'learn to code', coding lies at the heart of what physicists do so if you want in, just do it. I personally have gone home each day after work experience and started to teach myself, just a bit each night to get motivated.
Day 3
By day 3 you could tell the PhD students were struggling to communicate their brilliant and complicated thesis in a way that the work experience students could understand, regardless it was exiting to hear about current issues tackling the astrophysics community. Today we covered topics such as: satellites, radio wave space farts, gamma ray bursts, black holes and Elon Musk to name a few. Day 3 was full of hands on activities using real data to find satellites in the sky and the speed of galaxies after a natal kick from a supernova. Today I was also scared out of my pants by finding out there are black holes a billion times bigger than our sun. Today I heard from many of the PhD students here about the importance of coding
Day 4
If you're thinking about being an engineer then day 4 was for you. We started the morning with a long chat to ICRAR's resident electrical engineers Budi and Adrian about the inner workings of the antennas being used for the SKA and learnt about fibre optics. Budi explained how he used the coding language matlabs when setting up the delays for each telescope and about how important coding was to be an engineer. Today we learnt about interferometry, frustrated galaxies and neutrinos. Most importantly we learnt about the global race to find the first signal from the Epoch of Reionisation, on all accounts we heard it was no simple task. Finding the EoR is like finding a needle in a haystack, the unbelievably weak radio wave signal from the EoR gets lost in the noise from space which makes finding it such a challenging feat.
Day 5
Did I mention how important it is to code? Our final day we got a chance to do some more hands on activities weighing a galaxy and using the telescope on the roof of UWA, SPIRIT 1 and SPIRIT 2. The galaxy we were given weighed 1043 kilograms which is… a lot. It was sad to say goodbye to the close friends I had made throughout the week and even more sad to say goodbye to Dr Danail my new hero/crush that I had met on day 2. This week was so much more than I could have asked for, perfectly timed in an important time of choice in my life and extremely varied to give me a view on all the options out there. It is clear to me now that if I ever hope to have a cool title like Greg the cosmos consultant then I better get coding. The staff at ICRAR have clearly put a lot of effort to make this week so special for the work experience kids and so I am extremely grateful to all of them. I urge everyone thinking about a career in engineering or physics to jump on this opportunity.