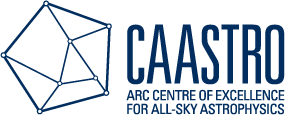 The ARC Centre of Excellence for All-Sky Astrophysics was active from 2011-2017.
—
ICRAR's two nodes at Curtin University and The University of Western Australia are also nodes of CAASTRO, the ARC Centre of Excellence for All-sky Astrophysics.
Many of our researchers are CAASTRO members and work within the CAASTRO team to further both ICRAR and CAASTRO's research and outreach efforts.
CAASTRO's research is in three themes—Dynamic, Dark and Evolving. The Curtin node participates in the Evolving and Dynamic themes, and the UWA node in the Dark and Evolving themes.
Caastro staff based at icrar
Professor Lister Staveley-Smith, CAASTRO Deputy Director, Chief Investigator and UWA Node Leader
Professor Carole Jackson, CAASTRO Chief Investigator and Curtin University Node Leader
Dr Balwinder Singh Arora, Researcher
Dr Rajan Chhetri, Researcher
Angela Dunleavy, Administrative Coordinator
Dr Wiebke Ebeling, CAASTRO Education and Outreach Manager
Dr Cullan Howlett, Researcher
Dr Steven Murray, Researcher
Clare Peter, Administrative Officer
Dr Attila Popping, Researcher
Dr Jonghwan Rhee, Researcher
Tina Sallis, Operations Coordinator
Dr Marcin Sokolowski, Researcher
Dr Dan Taranu, Researcher
Dr Steven Tremblay, Researcher
CAASTRO Students based at icrar
Kamran Ali, PhD Candidate
Rodrigo Canas, PhD Candidate
Qingxiang Chen, PhD Candidate
Katherine Harborne, PhD Candidate
Katharine Kelley, PhD Candidate
Lincheng Li, PhD Candidate
Samuel McSweeney, PhD Candidate
Bradley Meyers, PhD Candidate
Rhys Poulton, PhD Candidate
Fei Qin, PhD Candidate
Tristan Reynolds, PhD Candidate
Mengyao Xue, PhD Candidate
CAASTRO Affiliates based at icrar
Dr Ramesh Bhat, CAASTRO Associate Investigator
Dr Pascal Elahi
Dr Paul Hancock
Dr Minh Huynh, CAASTRO Associate Investigator
Dr Chris Jordan
Dr Anna Kapinska
Dr Claudia Lagos, CAASTRO Associate Investigator
Dr Jean-Pierre Macquart, CAASTRO Associate Investigator
Dr Martin Meyer, CAASTRO Associate Investigator
Dr John Morgan
Dr Danail Obreschkow, CAASTRO Associate Investigator
Professor Chris Power, CAASTRO Associate Investigator
Kim Steele
Dr Cath Trott, CAASTRO Associate Investigator
Mia Walker
Dr Randall Wayth, CAASTRO Associate Investigator
Dr Charlotte Welker
Dr Ivy Wong